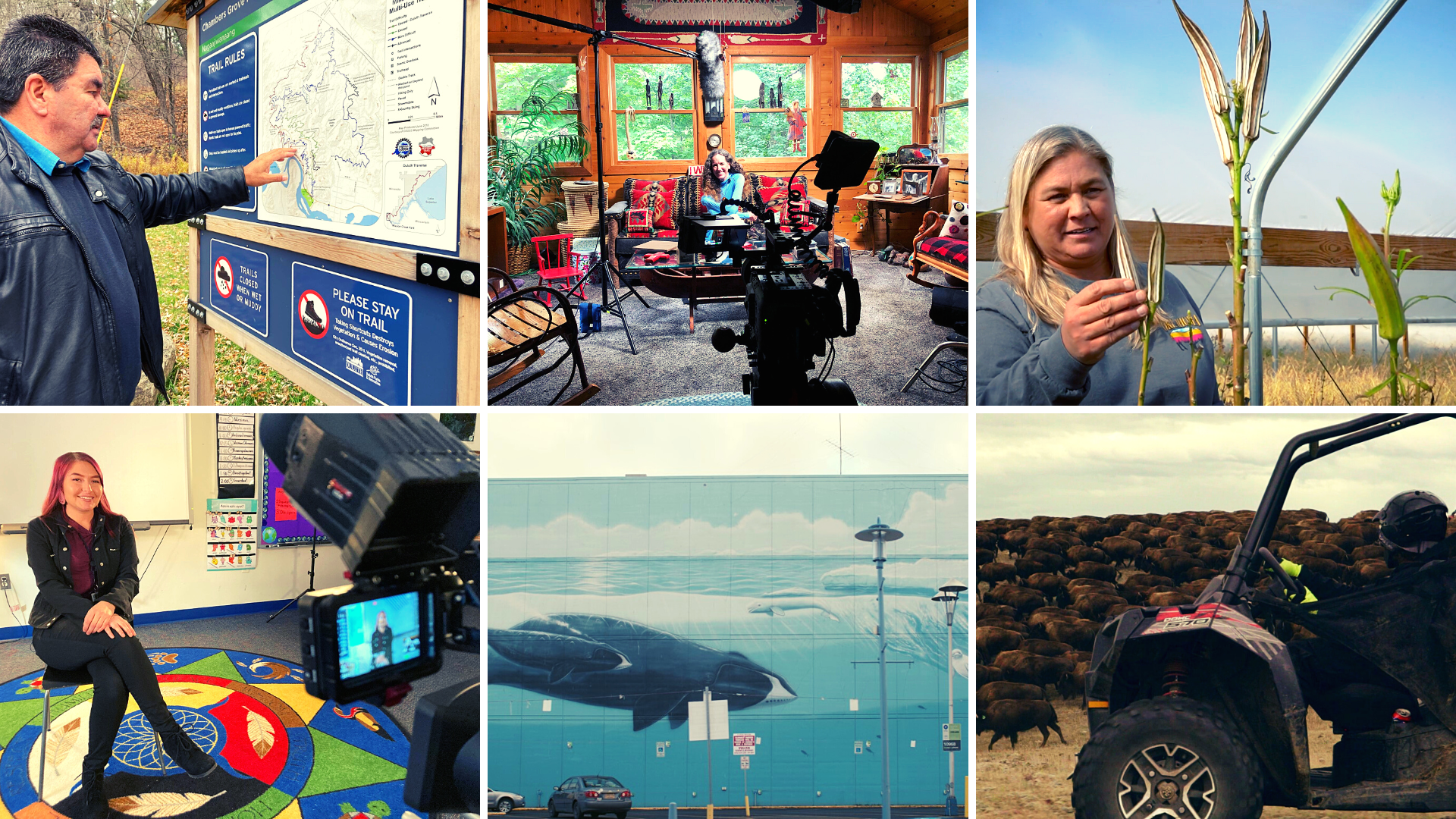 November is Native American & Alaska Native Heritage Month, Please join WDSE•WRPT in honoring and recognizing all across Indian Country. We have unique programming dedicated to celebrating Native American culture and heritage year-round! Stay tuned for Native Report season 18, premiering in January.
---
What to Watch
Waasa-Inaabidaa – We Look in All Directions
This six-part documentary features collected conversations, scenes, oral history, and knowledge from the elders and knowledgeable people of the Ojibwe Nation. It is a journey connecting the past with the present, pointing to the future progress of the Ojibwe people.
Native Report
An entertaining, informative series that celebrates Native American culture and heritage, listens to tribal elders, elevates the voices of our youth, and talks to game-changers and leaders of Indian Country today.
Minnesota Historia – Episode 6: The Chief Buffalo Memorial Project
Chief Buffalo was one of the greatest leaders in Ojibwe history. His story is the origin story of downtown Duluth, Minnesota. But there hasn't been any public art or a historical monument dedicated to him within the city. Until now. One of the memorial project's organizers, Moira (Miri) Villiard takes us on a tour of the Chief Buffalo mural.
Local USA – In Their Element
Spotlighting Indigenous leaders rising up to meet the challenge of the climate crisis, the film features four communities across the United States, each working to protect a different natural resource: earth, air, fire, and water. For people whose existence is inseparable from their native land, climate change is not a tale of the future – it is the present.
Groundworks
The story of the four California Native co-creators of the Groundworks project – an immersive, year-long media collaboration that culminated with a performance on Alcatraz Island on San Francisco's first official Indigenous Peoples Day in October 2018. While weaving together these artists' stories and their contemporary ways of sharing traditional knowledge, the film explores land management issues, water rights, and food security – concerns for all Americans, especially in an age of climate change.
Sisters Rising – available November 17th
Native American women are 2.5 times more likely to experience sexual assault than all other American women, and 86% of the offenses are committed by non-Native men. SISTERS RISING follows six women who refuse to let this pattern of violence continue in the shadows. Their stories shine an unflinching light on righting injustice on both an individual and systemic level.
Buffy Sainte-Marie: Carry it On – available November 22nd
Experience the story of the Oscar-winning Indigenous artist from her rise to prominence in New York's Greenwich Village folk music scene through her six-decade groundbreaking career as a singer-songwriter, social activist, educator, and artist.
Time Has Many Voices
The untold story of the Muwekma Ohlone Tribe of the San Francisco Bay area. Decimated by Spanish colonizers in the late 1700s, an Ohlone village is rediscovered through cutting-edge archeology, revealing surprising details about the lifeways of pre-contact ancestors. Now, modern-day members of the Muwekma Ohlone are honoring their past with these findings, laying claim to their existence, and paving the way for their future.
Older Than the Crown
In 2010, Sinixt tribal member Rick Desautel was charged with hunting as a non-resident and without a proper permit in Canada. To the Sinixt people, hunting on ancestral land is an aboriginal right – a right that has been legally denied since 1956 when Canada unjustly declared them extinct. Now, the nearly 3,000 Sinixt people on the Colville Indian Reservation in Washington State have a chance to not only bring light to their unjust extinction by the Canadian government but also abolish the declaration completely.
Blood Memory
For Sandy White Hawk, the story of America's Indian Adoption Era is not one of saving children but of destroying families and tribes. As an adoption survivor, Sandy sets out to reclaim the missing pieces of her stolen past only to discover that hers was not an isolated case. BLOOD MEMORY explores the communal healing that is sparked by the return of this stolen generation.
The Blessing
A Navajo coal miner, Lawrence, raises his secretive daughter as a single father while struggling with his part in the irreversible destruction of his tribe's sacred mountain. This deep spiritual sacrifice has caused him decades of emotional turmoil while providing for his family. Meanwhile, his daughter Caitlin searches for her inner identity amidst the expectations of her traditional father.
alter-NATIVE: Kitchen
Purveyors of America's Indigenous foods are forging a resurgence of native dishes that satisfy a new generation hungering for insight and culinary delight. Meet three talented young Indigenous chefs — Brian Yazzie, a Navajo/Diné chef originally from Arizona, now based in Minnesota; Kalā Domingo, a Hawaiian culinary student and heir to his dad's catering throne; and Hillel Echo-Hawk, a Pawnee-Athabaskian chef and caterer in Seattle – all preparing foods from their native cultures that sustained their communities for generations. From wild rice bowls and sumac duck confit to poke and imu-cooked kalua pig to honey Lakota popcorn, see how cooking connects each of these chefs to their own histories, and what they in turn can teach others with mouth-watering delicacies.
What We Can Learn from these Native American Comedies
Native American representation in film and TV used to be confined to Westerns and storylines of defeat. Today, a new wave of Native American comedies, written and created by Native peoples, are taking back their narratives. Shows like Reservation Dogs and Rutherford Falls challenge stereotypes and address big political movements like #LandBack.
What Does Electric Pow Wow Sound Like?
Canadian DJ collective A Tribe Called Red combines Native American drum circle sounds with electronic music to create Electric Pow wow. Nahre Sol travels to Toronto to meet A Tribe Called Red to learn how they blend native sounds and electronic music. LA Buckner meets with Iron Boy drum circle in Minnesota to watch a live performance and learn about their sound.
Indigenous Enterprise
The intertribal dance troupe, Indigenous Enterprise, showcases traditional dance with dazzling regalia and a contemporary flair to audiences around the world. The group presents a range of powwow styles – from fancy dance to jingle dress dance – bringing in audiences and bridging cultures.
---
Podcast
Ojibwe Stories: Gaganoonididaa
Ojibwe Stories is a program about Ojibwe culture, language, and ideas that aired on The North 103.3 FM in Duluth, Minnesota.