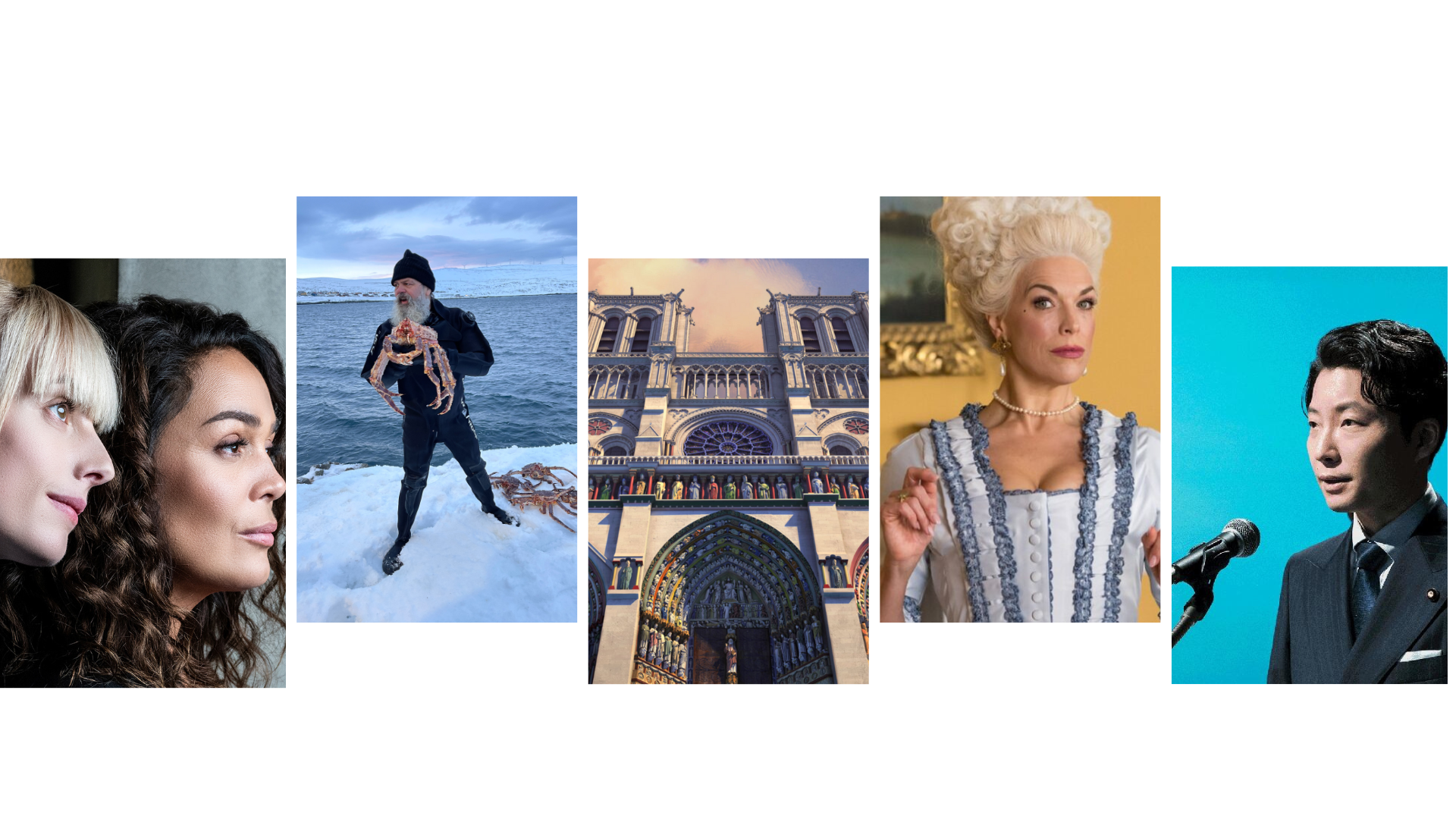 April Passport Highlights
PBS North Passport is an added benefit of station membership. Members gain extended access to more streaming videos. Learn more about this benefit or watch your favorite shows now.
IF YOU WOULD LIKE TO RECEIVE THE MONTHLY PASSPORT HIGHLIGHTS NEWSLETTER IN YOUR INBOX, SIGN UP HERE.
---
Available April 1
Hosted by Norwegian television personality Arne Hjeltnes, Swedish chef Frida Ronge, and award-winning distiller Stig Bareksten. The team ventures to faraway places in northern Norway and the Faroe Islands to showcase the Nordic way of life in these remote regions. Throughout the series, the trio explores the food, culture, land, traditions and people who live in this isolated part of the world.
In the year 202X. Japan's economy is in stagnation as birth rates continue to drop. Desperate, the government launches Project Utopi-AI, an experiment to revive a city through artificial intelligence. The AI selects Maki Aran, a 17-year-old high school student with ambitions to establish an egalitarian society as Prime Minister.
Rick Steves' successful European art history program is now available as six one-hour specials. Each special concentrates on art from prehistoric times through the entire span of European art history. Rick makes art fun and accessible, weaving the greatest masterpieces into a fascinating, entertaining, inspiring story.
Old-school police detective Pierre Niemans and his former student Camille Delaunay tackle complex, brutal murder cases with unsettling rituals in this thrilling French crime drama.
---
Available April 6
Rosy Abate finds Rosy, believed dead in an explosion, living in Liguria under a new identity. While working on having a normal life, she discovers that her son is still alive and will stop at nothing to get him back.
Chilean prosecutor Leo Ramirez is tasked with arresting a cult leader on charges of child abuse. Established by a Nazi fleeing Germany and long protected by General Pinochet's regime, "Colonia Dignidad" hides more than Leo is prepared to face.
In Rome, Alice is a medical student who falls in love with forensic medicine. Can she manage her private life at the same time she's struggling to be a great medical examiner?
---
Available April 7
When tragedy strikes a tiny town by the sea, investigator Luisa Ferrari is sent in to assist the locals. Beneath the surface, idyllic Castel Marciano is seething with secrets.
---
Available April 10
Before We Die picks up three months later with DI Hannah Laing spending the past three months trying to find the mole she believes is in her department.
Early streaming opportunity, won't be available on broadcast until summer 2023.
---
---
---
Available April 13
The Ladies' Paradise prepares to reopen amid a swirl of negative press. Newly promoted to the advertising department, Teresa must manage the fallout of the return of Mori's ex-wife
Adele mourns her sister and dedicates herself to her nephew. Meanwhile, trouble is brewing as Adele allows herself to get closer to Rocher, and Argos is still lurking.
Axel cut ties with his family long ago, but fate catches up to him and confronts him with a painful mystery. To make sense of it, Axel has no choice but to face his past.
Leo continues the fight against child injustice, driven by his own childhood and the disappearance of his daughter. Will one of his new cases lead him to her?
---
Available April 14
September 1979 sees the Giammerresi family back in Palermo. Lorenzo is panicking that he is being followed, Mafiosi are killing off the judiciary and each other and Salvatore is missing Alice.
---
Available April 20
Set against the striking backdrop of the Carrara marble quarries, this is the story of Brando and his revolt to improve working conditions across Italy. Will love blind him from his mission, or embolden him to push further?
Marco is an undercover agent, codename "Solo," on a mission to disrupt business for the Calabrian crime families. He quickly learns that surviving even a single day in Calabria is not a foregone conclusion in this story of drugs, corruption, deceit and murder.
Chiara is forced to return home to look after her niece and nephews when her estranged sister goes missing. Elena has disappeared before, but this time feels different.
In turn-of-the-21st-century Moscow, an innocent trade plunges a Swedish investment banker into battle with
millionaires, politicians, oligarchs and their private armies.
Juan Elias is a successful lawyer and ethics professor, with lofty aspirations. Then he turns up with no ID, no cell phone – nothing to identify him – with total amnesia.
The crime-fighting duo is back for more ethereal adventures involving aliens, witchcraft, and mythical beasts. Can Astrid solve these mystic murders?
The broadcast premiere for Season 2 will be available in Fall 2023.
---
Available April 27
Bomb raids and the Nazi regime bring the Charite to its limit. How can the doctors and nurses do their jobs when the world is collapsing around them?
A year after the tragic events that took place near Opole, the end of Piotr's trial looms. He has pled not guilty, and not even Agnieszka's testimony is enough to force a conviction. Can she dig deep enough into Piotr's past to finally bring him to justice?
Former police detective Julia Thiel is missing. While her family deals with the fallout, new police detective Ellen Norgaard finds her bearings in Usedom.
---
Available April 28
Blanca
Blanca, a blind profiler, comes back to Genova, her hometown. A difficult case forces her to remain and to face with her mysterious past. Based on books by Patrizia Rinaldi.
After five years in a coma, Florian Bassot wakes up in the body of Sylvain Bernard. He has been transferred into the body of someone else. At a time when transfers are banished by law, Florian will have to hide his identity and live as Sylvain Bernard, one of the highest-ranking officers in the anti-transfers task force.
Carmen Curler
The year is 1963 in a small Danish provincial town. Local TV business owner Axel gets the chance to invest in an electric curler and sees an opportunity to revolutionize the beauty industry and achieve the big success he's always dreamed of.
---
Available April 30
This miniseries reimagines The History of Tom Jones, A Foundling, Henry Fielding's classic novel. A picturesque story of the title character's complicated journey to find real love, Tom Jones has delighted and scandalized readers since it was originally published in 1749.
---
March Top Streams
---
Previous month: March 2023 Passport Highlights