January Passport Highlights
WDSE Passport is an added benefit of station membership. Members gain extended access to more streaming videos. Learn more about this benefit or watch your favorite shows now.
If you would like to receive the monthly WDSE Passport Highlights newsletter in your inbox, sign up here.
---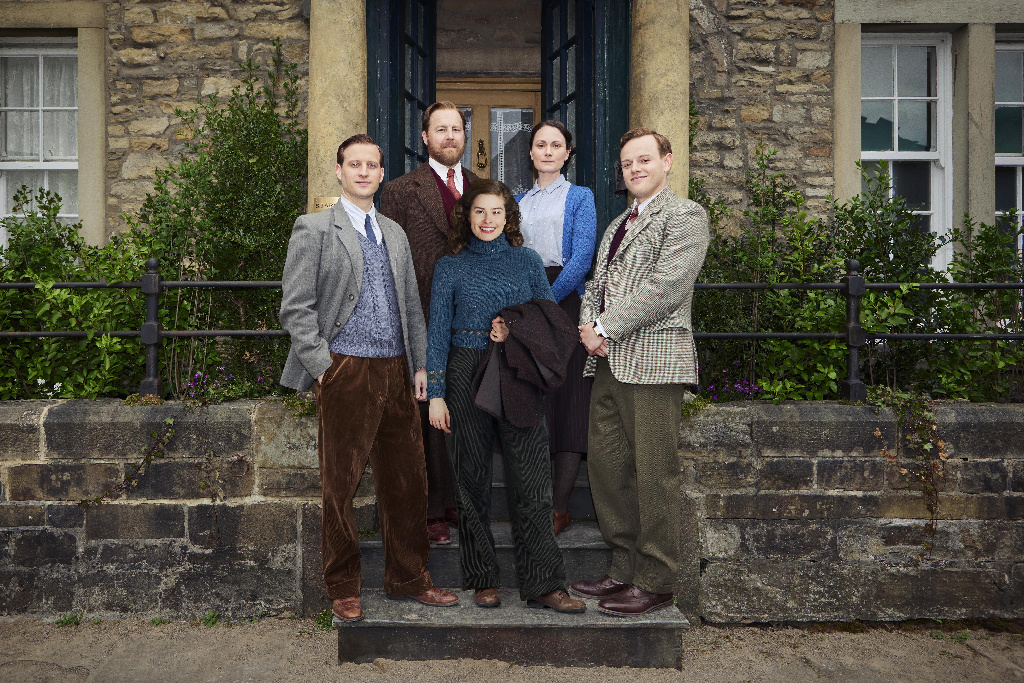 New and Notable
All Creatures Great and Small Season 3 – Entire season is available for streaming after the broadcast premiere on January 8th
Vienna Blood Season 3 – Entire season is available for streaming after the broadcast premiere on January 8th
Seaside Hotel Season 9 – Available January 13th
---
Available January 5th
Businessman Massimo has never taken a risk in his life. Flamenco dancer Candela is a free spirit who takes each day as it comes. They can't stop having visions of each other after they accidentally bump into each other at Prague Airport.
The Blood Pact seasons 1-3
The lives of a criminal and a notable tax official entangle when their daughters become friends. Hugo is
struggling to balance work and home, but life is about to get complicated when his 8-year-old befriends the
daughter of an ex-criminal.
Former policeman Alex Hugo leaves Marseilles for a new life but ends up confronting violence.
This dramatic family saga based follows two half-brothers who become estranged. Half-brothers grow up together during the Cold War, but one disappears mysteriously.
A policewoman must face her past to solve crimes in the present in this psychological thriller. A small-town policewoman is chasing a vicious serial killer with many lives at stake.
---
Available January 12th
An East German spy is sent to West Berlin on a 'Romeo' mission to target a female NATO analyst. A young East German spy has been meticulously trained to prey on lonely female NATO analysts.
Former gangster Blacha and retired policeman Sikora must deal with unresolved events. Investigating a series of murders, the former commissioner and a gangster must cooperate.
Jonas is a park ranger, in law enforcement, and a firefighter. But his love life needs rescuing. Jonas works as a park ranger, but beyond minding nature, he touches hearts and saves lives.
1873: A story of love and loyalty set against the construction of the Gotthard tunnel. Three young people forge a friendship that defies differences in social class.
As an undercover cop, Alex Pollack learned that sometimes you have to act fast to save lives. He infiltrates the drug mafia in Amsterdam. Who can he trust?
The Hotel Sacher is Vienna's most distinguished hotel. However, a new era is about to begin. Two couples become intertwined as they conduct passionate but doomed affairs.
---
Available January 19th
The Szlezyngiers' daughter vanishes, and her parents are the main suspects. Will an old lawyer friend, Joanna Chylka, be able to defend them?
The events of WWII are told through the eyes of the people at Madame K's brothel in Tallinn. Savvy Mrs. Kukk has to look after her upscale brothel with a wealthy and powerful clientele.
A young seamstress takes charge of her life in the midst of the Spanish Civil War. Sira struggles to balance her double life as both a prominent couturier and an Allied spy.
Ambitious reporter Karin and artist Lottie start stirring things up in their new small town. Karin and Lottie see a different future than the old traditions of the town of Ystad.
Maria Theresa is the heiress of the Habsburg Empire. She ascends to the throne with Austria on the verge of collapse. Must she sacrifice her happiness to rule?
---
Available January 26th
A family is killed, and their young daughter is the only survivor. Can she help unlock this mystery? Belgarde makes a deal with a psychiatrist to help his witness recover from the trauma of loss.
When a neighbor asks a grieving mother to babysit one day, life takes a tumultuous turn. Angela risks everything to save two children she barely knows, and to heal herself.
Trainee nurse Nina faces plenty of obstacles in life. And her new boss is her ex-husband. Nina put her career on hold for her daughter, but now intends to take her life back.
Detective Sandra Winckler must work with legend Paul Maisonneuve on a macabre case. Who is performing a gruesome ritual: posing dead bodies in model homes?
This thriller examines crisis response among victims, politicians, the media, and bystanders. Fifteen Danes have their lives upended when their Metro train is hijacked.
This drama portrays tight-knit relationships between store workers in the world of the 1950s. A department store owner and his right-hand man both take an interest in shopgirl Teresa.
---
December Top Streams
---
Expiring Soon!
Generations of family farming go up in flames as the North Dakota oil rush leaves human memory, culture, and identity scorched in its wake. My Country, No More follows one rural American family's path of resistance through the rise and fall of the boom.
Expires: January 6th
Host Henry Louis Gates, Jr. helps actor Andy Samberg and author George R. R. Martin answer some family mysteries when DNA detective work uncovers new branches of their family trees. The DNA analysis upends family history and reveals new relatives.
Expires: January 7th
Director Jared Leto crafts a sweeping yet intimate cross-section of America shot on a single July 4th in 2017 with 92 film crews fanning out across each of the United States and Puerto Rico to capture A Day in the Life of America. A gargantuan production shot over a single 24-hour period across the country, the film weaves a wide range of beliefs and backgrounds into a rich tapestry of life.
Expires: January 10th
---
Further Out
Expires: February 14th
Expires: February 15th
Expires: February 15th
Expires: February 18th
---