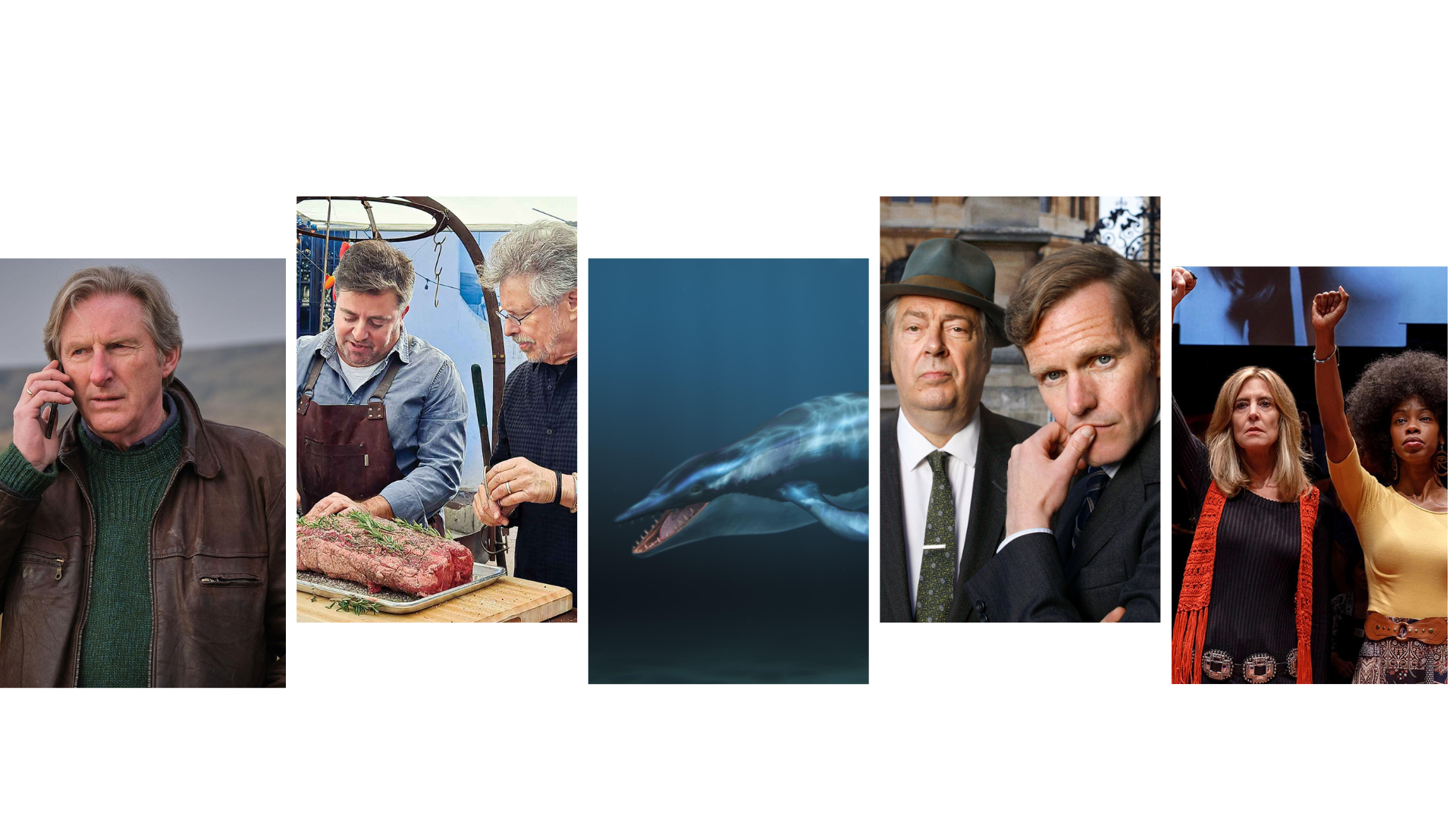 June Passport Highlights
PBS North Passport is an added benefit of station membership. Members gain extended access to more streaming videos. Learn more about this benefit or watch your favorite shows now.
IF YOU WOULD LIKE TO RECEIVE THE MONTHLY PASSPORT HIGHLIGHTS NEWSLETTER IN YOUR INBOX, SIGN UP HERE.
---
Available June 1
In the 1950s and '60s, an underground network of transgender women and cross-dressing men found refuge at a modest house in the Catskills region of New York. Known as Casa Susanna, the house provided a safe place to express their true selves and live for a few days as they had always dreamed—dressed as and living as women without fear of being incarcerated or institutionalized for their self-expression. Told through the memories of those who visited the house, the film provides a moving look back at a secret world where the persecuted and frightened found freedom, acceptance, and often, the courage to live out of the shadows.
All-Star Orchestra features popular symphonic scores and new work by contemporary composers. The series provides background and shares the living tradition of each score, enabling a deeper appreciation of the music. Season four explores classic works by Handel, Haydn and Mendelssohn, along with 20th- and 21st-century pieces by Zoltán Kodály, Alan Hovhaness and Augusta Read Thomas.
Anne Morgan's War
Anne Morgan's War tells the little-known story of how one American woman became an exemplary force in the recovery of Northern France's World War I wartime devastation and highlights the legacy of a woman in the vanguard of feminism and humanitarian action.
Explore the music of Louisiana singer-songwriter Zachary Richard and his oral history of the Cajun people. This exclusive performance, taped live at the Manship Theatre in Baton Rouge, presents Richard's original songs in an immersive, multi-media stage show. Along with performance footage, archival photography traces the lineage of one of America's most influential immigrant populations.
The first Women's Air Derby was flown in 1929 with brave women making history by breaking into a competition that was thought to be for men only. They encountered sabotage, death, and all the difficulties of flying at the dawn of aviation. Today the Powder Puff Derby continues as the Air Race Classic. The modern-day racers carry out the legacy of the original racers with their adventurous spirit.
For years, recording and performing artist B.E. Taylor drew loyal fans and first-time concert-goers alike to his annual Christmas tour. Recorded at a festively decorated concert hall adorned with Christmas trees, wreaths and white lights, this one-hour concert features Taylor's modern arrangements of perennial Christmas favorites.
Following a career-ending injury, professional arena football player Lewis Howes was left with no clear path forward. Follow along with the former athlete turned entrepreneur and author's journey from despair to newfound purpose through interviews with his family, friends and well-known self-help experts, excerpts from his podcast, and varied footage from his media appearances and live events.
A veteran of World War II, Vonnegut based his classic novel in part on his traumatic experience as a young prisoner of war during the Allied firebombing of Dresden in Feb. 1945. The documentary gives an intimate look at the talented but troubled author and the impacts of his anti-war novel on American literature and culture.
Explore Kurt Vonnegut's relationship with his hometown and the people and places that shaped him. Using archival photos, a 1991 interview with Vonnegut himself, along with interviews with his children, friends and Hoosier authors James Alexander Thom, John Green and Dan Wakefield, you'll discover how Indianapolis left its mark on one of the 20th century's most influential writers and his writing.
Discover the intertwined story of the promising research undertaken by two University of Montana scientists and the real experiences of two athletes recovering from concussions. The documentary also tracks a year of the scientists' research and findings and the quest for funding to continue their work while following the athletes and trainers as they navigate the current concussion protocol.
Taped in part at the historic Saenger Theatre in downtown New Orleans, the special spotlights a concert celebrating the city's vast and unique musical influences. Vibraphonist/percussionist Jason Marsalis and The NOLA Players perform a variety of holiday classics and a few of the Big Easy's finest chefs demonstrate recipes typical of New Orleans at Christmastime.
John Coykendall, a renowned seed saver, classically trained artist, and master gardener has been preserving the seeds, traditions, oral histories, and foodways of a small rural farming community in Louisiana. The documentary chronicles how he has tracked down and safeguarded rare and heirloom varieties of crops historically grown in the region and safely returned them to farmers.
An award-winning film that captures people who are weighing what matters most at fragile junctures in life, and the nurses who guide them and help carry out their decisions. The documentary follows eight patients with life-threatening illnesses as they make choices about how they want to live, how much medical technology they can accept and how their hope evolves when life is threatened.
Eliades Ochoa rose to worldwide fame in the late '90s as an original member of the band The Buena Vista Social Club. Over the decades, he has dedicated his life to celebrating and preserving the traditional folk roots of Cuban music. Get an intimate portrait of this legendary Cuban musician through rare photographs, archival footage, and interviews with family, friends and fellow musicians.
Elizabeth Black was a Pittsburgh artist who sketched charcoal portraits of American soldiers across Europe during World War II. Through detailed searches, detective work and the kindness of volunteer genealogists and other researchers, WQED in Pittsburgh is working to find the soldiers and/or their survivors. The film features encounters with both amazed and appreciative families.
Discover the story of a Minneapolis nightclub that launched the careers of Hüsker Dü, the Replacements, Semisonic, Soul Asylum and more. The film includes images and interviews of an array of musicians and bands that have played the club. From the days of Woodstock, through disco, punk and hip-hop, this "pirate ship that goes nowhere" has weathered the storm to become a part of music history.
Taped over seven years, Talent Has Hunger offers a window into the relationship between artist and teacher, inviting viewers into master cello instructor Paul Katz's New England Conservatory of Music. Katz works with students ranging from a 10-year-old child prodigy to college-aged music majors using an array of approaches to nurture the natural talents of his pupils.
Introduced by esteemed conservationist Jane Goodall and narrated by National Geographic's Bill Jones, the film features stories of competition, courtship, family, hunting and flight to illustrate the hidden life of East African birds. Along the way, the documentary also reveals how Todd reads and predicts animal behavior in the wild, then captures decisive moments on film.
The documentary features the talents of international jazz legends George Benson, Ahmad Jamal, Stanley Turrentine, Billy Eckstine, Kenny Clarke, Art Blakey, Billy Strayhorn and Mary Lou Williams—all Pittsburghers. Using archival footage and photos, it sheds light on the social conditions and historical events that made Pittsburgh one of the world's leading contributors to the legacy of jazz.
---
Available June 2
After two years in prison, professional con man Alidor Van Praet needs to rebuild the fortune the police seized from him. When he discovers 20-year-old Jeremy Peeters' hacking skills, he knows this shy kid is the key to making it happen. But as the heist unfolds and events take an unexpected turn, who is really in control?
---
Available June 9
Set against the striking backdrop of the Carrara marble quarries, this is the story of Brando and his revolt to improve working conditions across Italy. Will love blind him from his mission, or embolden him to push further?
---
Available June 16
A French Case
---
Available June 19
Retired Detective Inspector Alex Ridley is called back to advise on a complex and compelling murder case by his replacement and former protege DI Carol Farman. Carol is keen to access Ridley's unique insight into crime-solving which served them so well in the past, but the investigation takes a dark and unexpected twist.
Shaun Evans (The Take, The Last Weekend, Silk), charms audiences with his portrayal of the cerebral and solitary Detective Constable Morse in Endeavour, written by Inspector Lewis creator and Inspector Morse writer Russell Lewis .
---
Available June 26
Reunions
---
Available June 30
Giovanna's Journey, season 1 (Winds of Passion)
---
May Top Streams
---
Previous month: May 2023 Passport Highlights